Science Frontiers
ONLINE

No. 139: Jan-Feb 2002









---

Other pages

---



























Rock-fall Air Blasts
It is well known that snow avalanches act like pistons and push blasts of air at hurricane speeds ahead of the deluge of snow. An unusual rock fall at Yosemite created a similar air blast with severe consequences.
July 10, 1996. Yosemite National Park, California. We reported this remarkable event in SF#111 for its far-flung seismic waves, which jostled seismographs at Berkeley and Reno over 200 kilometers distant.
Actually, there were two rock falls 14 seconds apart. The "rocks" fell from a 665-meter cliff at Happy Isles in the eastern part of Yosemite Valley. No pebbles these; with volumes of 23,000 and 38,000 cubic meters.
Although the impact area of the rock falls was not particularly large, the falls generated an air blast and an abrasive sandy cloud that devastated a larger area downslope of the impact sites toward the Happy Isles Nature Center. Immediately downslope of the impacts, the air blast had velocities exceeding 110 m/s [about 245 mph] and toppled or snapped about 1000 trees. Even at distances of 0.5 km from impact, wind velociies snapped or toppled large trees, causing one fatality and several serious injuries beyond the Happy Isles Nature Center. A dense sandy cloud trailed the air blast and abraded fallen trunks and trees left standing.
(Wieczorek, Gerald F. et al; "Unusual July 10, 1996, Rock Fall at Happy Isles, Yosemite National Park," Geological Society of America, Bulletin, 112:75, 2000.)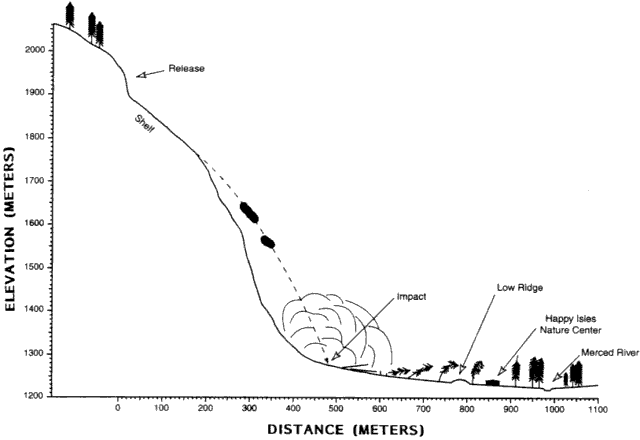 From Science Frontiers #139, Jan-Feb 2002. © 2001 William R. Corliss
---