Science Frontiers
Sourcebook Project

Strange reports * Bizarre biology * Anomalous archaeology
From New Scientist, Nature, Scientific American, etc

Archaeology Astronomy Biology Geology Geophysics Mathematics Psychology Physics



---

Guides available

---

---


Omni Edge Science Winner
December 1996

---
The Sourcebook Project
(Catalog of Anomalies)

The Sourcebooks, Handbooks and Catalogs are compiled from 40,000 articles from the scientific literature, the results of a 25-year search through more than 12,000 volumes of scientific journals, including the complete files of Nature, Science, Icarus, Weather, etc. The Sourcebook Project is compiling an objective, unsensationalized catalog of anomalous phenomena. (See also: Subject Index | Science Frontiers On-line)
| | |
| --- | --- |
| | Scientific Anomaly Outlines |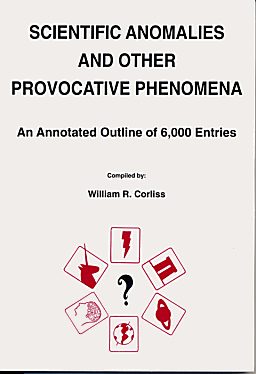 Scientific Anomalies and other Provocative Phenomena
Sorry: Temporarily unavailable.

An Annotated Outline of 6,000 Entries

It should not surprise anyone that this Outline contains about 6,000 entries, all of which remain unexplained to my satisfaction, or which, at the very least, I find curious and engaging. My main objectives with this volume are these:
The compilation of a list of scientific phenomena worthy of further attention and research
The presentation of a "first look" a the entire spectrum of what I have found anomalous, provocative, and exciting in science
The provision, via a menu-type index, of a guide to my many already published Catalogs and Handbooks of anomalies and curiosities.
Major Paradigms Targeted
Anomalies exist only when they challenge paradigms and hypotheses. It is unavoidable, therefore, that some paradigms, widely considered to be fact, will be contradicted by many of the phenomena listed in this Outline. For example, the following paradigms that presently dominate scientific thinking are her considered to be at risk:
The expanding universe
The Big Bang origin of the universe
Neo-Darwinism (specifically, evolution via random mutation and natural selection)
That genomes are the complete blueprint for lifeforms
Plate tectonics/continental drift
Special and General Relativity
296 pages, softcover, $17.95, 244 illus., Jan 2003.
ISBN 0-915554-45-3, 7x10".
For a full list of biology subjects, see here.
Biological Anomalies: Humans I: A Catalog of Biological Anomalies
This volume, the first of three on human biological anomalies, looks at the "external" attributes of humans (1) Their physical appearance; (2) Their anomalous behavior; and (3) Their unusual talents and faculties.
Typical subjects covered:
Mirror-image twins * The sacral spot * The supposed human aura * Baldness among musicians * Human tails and horns * Human behavior and solar activity * Cycles of religiousness * Cyclicity of violent collective human behavior * Handedness and longevity * Wolf-children * The "Mars Effect" * Telescopic vision *Dermo-optical perception * Hearing under anesthesia * Human navigation sense * Asymmetry in locomotion * Sex-ratio variations
Comments From Reviews: "All I can say to Corliss is carry on cataloging". New Scientist
View Cart
Buy online via PayPal with MC/Visa/Amex
304 pages, hardcover, $19.95, 52 illus., 3 indexes, 1992.
548 references, LC 91-68541. ISBN 0-915554-26-7, 7x10.
Biological Anomalies: Humans II: A Catalog of Biological Anomalies
The second Catalog volume on human biological anomalies focuses upon the "internal" machinery of the body (1) Its major organs; (2) Its support structure (the skeleton); and (3) Its vital subsystems (the central nervous system and the immune system)
Typical subjects covered:
Enigma of the fetal graft * Phantom limbs * Blood chimeras * Anomalous human combustion * Bone shedders * Skin shedders * "Perfection" of the eye * Dearth of memory traces * Sudden increase of hominid brain size * Health and the weather * Periodicity of epidemics * Extreme longevity * AIDS anomalies * Cancer anomalies * Human limb regeneration * Nostril cycling * Voluntary suspended animation * Male menstruation [Picture caption: Is the complexity of the human eye anomalous?]
View Cart
Buy online via PayPal with MC/Visa/Amex
297 pages, hardcover, $19.95, 40 illus., 3 indexes, 1993.
494 references, LC 91-68541, ISBN 0-915554-27-5, 7x10.
Biological Anomalies: Humans III: A Catalog of Biological Anomalies
Completing our trilogy on human anomalies, this volume focuses on four areas (1) the human fossil record; (2) biochemistry and genetics; (3) possible unrecognized living hominids; and (4) human interactions with other species and "entities "
Typical subjects covered:
Neanderthal demise * Giant skeletons * Tiny skeletons * Hominid gracilization * Sudden brain expansion * Human chimeras * Sasquatch / Bigfoot, Alma, Yeti, and others * Human-animal communication * Humanity and Gaia * Anomalous distribution of human lice
Comments from reviews: "Some fascinating thinking om the frontiers of science", Borderlands.
View Cart
Buy online via PayPal with MC/Visa/Amex
212 pages, hardcover, $19.95, 44 illus., 3 indexes, 1994.
311 references, LC 91-68541. ISBN 0-915554-29-1, 7x10.
For a full list of biology subjects, see here.
For a full list of archeology subjects, see here.
For a full list of geophysics subjects, see here.
For a full list of geology subjects, see here.
| | |
| --- | --- |
| | Science Frontiers: The Books |
The first publications of the Sourcebook Project appeared in the early 1970s. These were loose-leaf notebooks called "Sourcebooks." Here were reproduced articles and excerpts of articles dealing with anomalous phenomena. Although these Sourcebooks were superseded by the Handbooks and Catalogs, the continuing demand for them has encouraged us to keep most of them in print, as detailed below:
View Cart
Buy online via PayPal with MC/Visa/Amex
| | |
| --- | --- |
| | Uses for the catalogs and handbooks |
(l) Librarians will find these books to be unique collections of source materials and bibliographies; (2) Scientists will find research ideas as well as unexpected observations and many references; (3) Students can use these books to select and develop research papers and theses; (4) The science-oriented layman will find thousands of those mysteries of nature that make science exciting.
The Catalog of Anomalies is in effect an encyclopedia of the unknown and puzzling that is based primarily upon recognized scientific research. It is the only organized, indexed, unsensationalized collection of difficult-to-explain phenomena. The Catalog is supplemented by several "Handbooks" containing more voluminous descriptions of some of the phenomena.
Reviews in scientific and library publications
The Catalogs and Handbooks have been favorably reviewed in many scientific journals, such as Nature, American Scientist, and New Scientist. In addition, library publications such as Choice, Booklist, and Science Books have recommended them. Four have been book club selections. All Catalogs and Handbooks have been compiled by William R. Corliss
The Sourcebook Project
P.O. Box 107
Glen Arm, MD 21057
USA
Tel: +1 (410) 668 6047.
Ordering information
Prices are in U.S. dollars. Canadian dollars and pounds sterling are accepted at prevailing exchange rates. U.S. customers should add $2.00 for each order under $30.
International orders: Shipping for foreign customers will be at the prevailing cost of U.S. Postal Service international priority mail. Unfortunately we ship only to customers only in: Australia, Austria, Bahamas, Belgium, Bermuda, Canada, Denmark, Finland, France, Germany, Greece, Ireland, Italy, Japan, Luxembourg, Netherlands, New Zealand, Norway, Poland, Portugal, Puerto Rico, Spain, Sweden, Switzerland, United Kingdom, Virgin Islands (U.S.), and, Virgin Islands (British)
Designed by Knowledge Computing on behalf on The Sourcebook Project.