Science Frontiers
ONLINE

No. 139: Jan-Feb 2002









---

Other pages

---



























Really High Oysters
At 12,300 feet of altitude among the cold rarefied peaks of the Andes, one would not expect giant fossilized oysters. But there they are---over 500 of them in one location. Some are 3.5 meters in circumference (about 3.8 feet across). When alive, they probably weighed 300 kilograms (660 pounds).
About 200 million years ago, according to the geologists, these oysters were thriving under Pacific waters. One must conclude that the Andes rose to their snowy magnificence in a very short period of geological time.
(Mayo, Raul; "Descubren Fosiles de Ostras Gigantes en Plena Cordillera," El Comercio, February 28, 2001. Cr. R. Gabbert)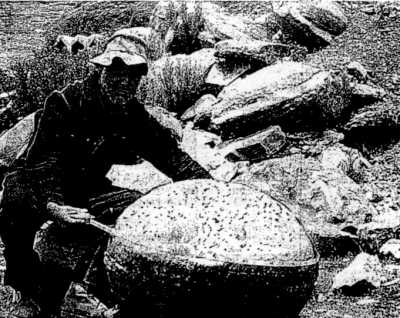 Comment. The article calls the fossils "oysters" ("ostras"), but they look more like giant clams.
The high Andes boast some curious marine innuendoes. Lake Titicaca is freshened by melting snows but is said to support a species of seahorse and many fish with marine affinities. It drains into lakes that are highly saline.
From Science Frontiers #139, Jan-Feb 2002. © 2001 William R. Corliss
---