Science Frontiers
ONLINE

No. 139: Jan-Feb 2002









---

Other pages

---



























When The Edges Of The Continents Were Naked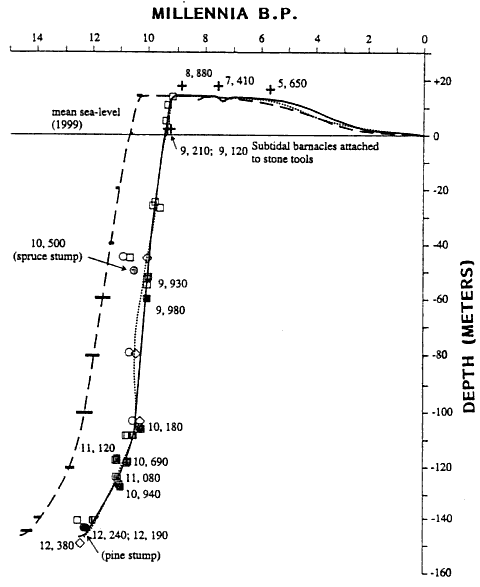 Sea-level curves off the British Columbia coast versus time.
(Left) Dashed curve in calendar years.
(Right) Curves based on radiocarbon measurements.
The aquatic-ape hypothesis may or may not hold water, but modern sonar undersea imaging and sampling reveal wide swathes of land that are now drowned that could once have been ideal habitat for water-adapted humans.
One of these surveys was conducted offshore of Queen Charlotte Island, Canada. The surveyors discovered extensive post-glacial landscapes suitable for human use now covered by 150 meters (500 feet) of ocean, but which were exposed 10,000-12,000 years ago.
In situ tree stumps and shellfish-rich paleobeaches are present on these drowned landscapes. A stone tool encrusted with barnacles and bryozoa were recovered from a drowned delta flood plain now 53 m below mean sea level. This is the first tangible evidence that the subaerial broad banks of the western North American Continental Shelf may have been occupied by humans in earliest Holocene and possibly late glacial time.
(Fedje, Daryl W., and Josenhans, Heiner; "Drowned Forests and Archaeology of the Continental Shelf of British Columbia, Canada," Geology, 28:99, 2000.)
Comment. A map in the referenced report reveals that 12,000 years ago broad stretches of land several hundred kilometers wide bordered Canada, Alaska, and Russia. Not only could this exposed land have encouraged entry into the New World (as long-theorized), but the universal 500-foot drop in sea level provides ample opportunity to speculate about Atlantis and other drowned cities of earlier cultures now lost in time.
One can imagine vast human-occupied plains abutting the steep, exposed edges of today's continents, then fringed withgreat waterfalls hundreds of feet high as the continents' rivers scoured out the great submarine canyons on modern bathymetric maps. There are few, if any, reliable accounts of this segment of human history, although speculation is rife about an Osirian Age, ancient sea kings, and the like.
Finally, one must ask what caused the rapid rise in sea level shown on the graph? Were melting ice sheets sufficient?
From Science Frontiers #139, Jan-Feb 2002. © 2001 William R. Corliss
---