Science Frontiers
ONLINE

No. 139: Jan-Feb 2002









---

Other pages

---



























The Mysterious First Green Egg
In SF#138, we addressed the subject of birds' eggs as signals. Another similar and even more curious case occurs on the Antipodes Islands 500 miles southeast of New Zealand. There, five species of erect-crested penguins breed. These birds normally lay two eggs but raise only one chick. The first egg is distinctly greenish and much smaller than the second white egg. The little greenish egg is totally neglected and often ejected from the nest. No one knows why.
(Davis, Lloyd Spencer; "A Superlative Penguin," Natural History, 110:46, November 2001.)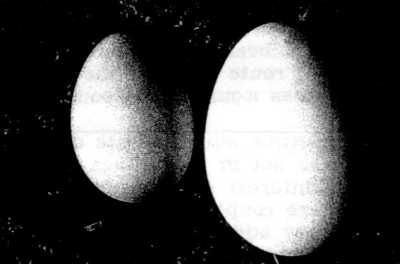 First and second eggs of an Erect-Crested Penguin, respectively.
(Left) Small and greenish (Right) Large and white.
Comment. We suppose the first little egg could be a trial run of the female's reproductive machinery. Its small size and subsequent neglect seem to indicate that it is not a "back-up" egg in case the second egg is defective or eaten by a predator. Or maybe the little egg is a sop to predators with a hope that they will be satisfied with it. It would be interesting to know if the first eggs are ever hatched and what sort of chicks emerge.
From Science Frontiers #139, Jan-Feb 2002. © 2001 William R. Corliss
---