Science Frontiers
ONLINE

No. 138: NOV-DEC 2001









---

Other pages

---



























When The Arctic Was Warm
According to the anthropologists' schedule of hominid diffusion across the planet, the Ice Ages blocked most east-west travel at high latitudes until about 12,000 years ago. This date now seems far off the mark. A team of Russian and Norwegian archeologists has located a hominid camp at Mamontovaya Kurya in Russia on the Arctic Circle. Bones of horses, reindeer, and wolves were strewn about this Paleolithic camp. Most important of all, though, was a 4-foot mammoth bone bearing grooves made by sharp stone tools -- a sure sign of human occupation. The mammoth bone has been dated as 36,000 years old. This is the earliest sign of hominid presence in the high Arctic.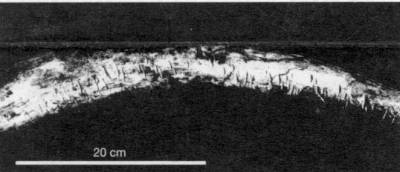 These grooves on the Mamontovaya Kurya mammoth bones were made with sharp stone tools, but for what purpose? Was primitive notation in use 40,000 years ago?
You will notice that we use the word "hominid" rather than human, because the campers may have been Neanderthals. No hominid bones were found to resolve this matter.
The implication of all of this is that, although the Arctic may have been very cold 36,000 years ago, it was largely ice-free.
(Pavlov, Pavel, et al; "Human Presence in the European Arctic Nearly 40,000 Years ago," Nature, 413:64,2001. Wilford, John Noble; "New Evidence of Early Humans Unearthed in Russia's North," New York Times, September 6, 2001. Cr. D. Phelps)
Comment. A nearly ice-free Arctic some 40,000 years ago might have permitted human diffusion into the New World, but so far we have seen nothing this early. It is likely that the Southern Hemisphere was also freer of ice during this period. Although humans had gained Australia by this time, we know of no good evidence that they used Antarctica and the islands of the Southern Ocean to reach the New World. But see a related item under GEOLOGY.
From Science Frontiers #138, NOV-DEC 2001. © 2001 William R. Corliss
---