Science Frontiers
ONLINE

No. 136: JUL-AUG 2001









---

Other pages

---



























Lake Michigan's Annual Silt Plume
The item on the Caribbean "whitings" in SF#135 brought forth an article from a Chicago newspaper describing a similar phenomenon. Every spring a great plume of silt -- an estimated million tons of it -- is stirred up by winds and currents on Lake Michigan. This plume is easily visible to those who care to brave the bitter weather that time of year. The 125-mile-long chalky plume stretches along the shore from Wisconsin, past Illinois, around the southern tip of the lake, and up along the Michigan shore. The plume lasts several weeks and is easily seen by satellites high overhead.
(Kendall, Peter; "Scientists Plumb Mystery of Lake Plume," Chicago Tribune, February 1997 or 1998. Cr. J. Cieciel.)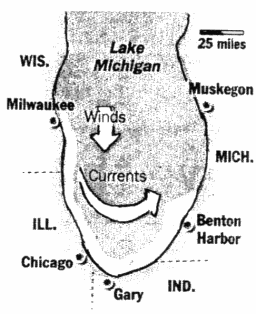 Spring winds and currents stir up a 125-mile-long, chalky plume on Lake Michigan.
From Science Frontiers #136, JUL-AUG 2001. © 2001 William R. Corliss
---