Science Frontiers
ONLINE

No. 136: JUL-AUG 2001









---

Other pages

---



























The Path Of The Pyramids
About the same time the Egyptians were hauling 100-ton limestone blocks to the Giza Plateau, some South Americans were toting basketball-size rocks in bags woven from reeds to a site called Caral, located 23 kilometers from Peru's Pacific coast. While the Egyptians piled their weighty blocks neatly into pyramids, the South Americans simply dropped their stones, reed bags and all, onto crude but growing piles.
When finished, the largest "rock pile" at Caral contained 7 million cubic feet of rocks and had assumed the shape of a pyramid (or platform mound) four stories high (60 feet) and covering an area 500 by 450 feet. This was probably the first monumental architecture in the New World; and it was constructed some 800 years earlier than mainstream archeologists had expected. In fact, Caral boasts six large platform mounds, three sunken plazas, and many impressive buildings.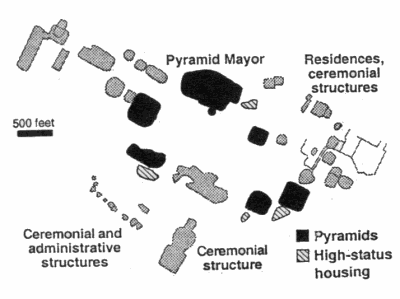 Layout of the Coral site in Peru.
For all its precocious architecture, Caral is a "preceramic" site; that is, it was built before the advent of pottery in South America. Caral was "officially" discovered in 1905, but it was neglected by both archeologists and grave robbers because there were no artifacts to collect and nothing worth stealing. No one recognized its great age until recently. Today Caral is recognized as the work of the first complex society in the New World. (Solis, Ruth Shady, et al; "Dating Cara a Preceramic Site in the Supe Valley on the Central Coast of Peru," Science, 292:723, 2001. Maugh, Thomas M., II; "Scientists Say Peruvian Ruins Are Old est City in Americas," Houston Chronicle, April 27, 2001. Cr. D. Phelps. Ritter, Jim; "Pyramids as Old as Egypt's," Chicago Sun-Times, April 27, 2001. Cr. J. Cieciel.)
Comment. Could Caral (built about 2600 BC) have been the progenitor of a wave of pyramid-building cultures that swept northward and manifested itself in the Mayan pyramids (Tikal, circa 700 AD), the Aztec pyramids (Teotihuacan, 150-750 AD), and the works of the Moundbuilders (Cahokia, 1300 AD)? South-to-north would be just the opposite direction for a cultural wave originating at the Bering Land Bridge! And there is more to this story. See below.
From Science Frontiers #136, JUL-AUG 2001. © 2001 William R. Corliss
---