Science Frontiers
ONLINE

No. 134: MAR-APR 2001









---

Other pages

---



























Plate Tectonics Subducted?
In the Fall 2000 number of the
Journal of Scientific Exploration
, D. Pratt fired a thunderous broadside at that revered paradigm of geophysics: plate tectonics, nee continental drift. This 47-page study, which includes 10 pages of references, is best summarized by quoting from the author's own conclusions.
Plate tectonics -- the reigning paradigm in the earth sciences -- faces some very severe and apparently fatal problems. Far from being a simple, elegant, all-embracing global theory, it is confronted with a multitude of observational anomalies and has had to be patched up with a complex variety of ad hoc modifications and auxiliary hypotheses. The existence of deep continental roots and the absence of a continuous, global asthenosphere to "lubricate" plate motions has rendered the classical model of plate movements untenable. There is no consensus on the thickness of the "plates" and no certainty as to the forces responsible for their supposed movement. The hypotheses of large-scale continental movements, seafloor spreading, and subduction , as well as the relative youth of the oceanic crust are contradicted by a substantial volume of data. Evidence for significant amounts of submerged continental crust in the present-day oceans provides another major challenge to plate tectonics.
(Pratt, David ; "Plate Tectonics: A Paradigm under Threat ," Journal of Scientific Exploration," 14:307, 2000.)
Definition. Asthenosphere = upper mantle, a hot, fluid layer of rock.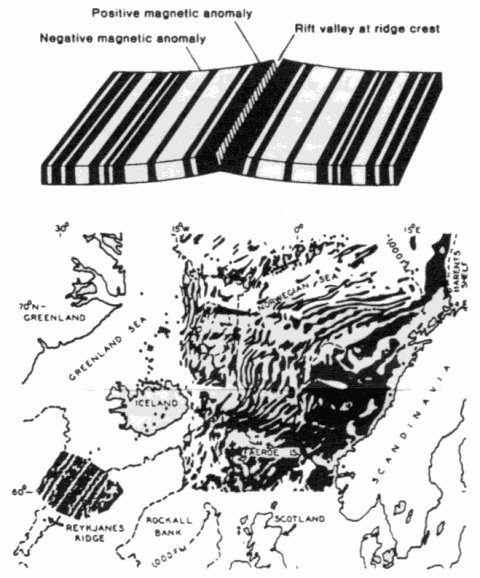 Two kinds of marine magnetic anomalies: (Top) Idealized stripes straddling a rift valley. (Bottom) Actual magnetic anomalies in the North Atlantic. Quite a difference between theory and reality
From Science Frontiers #134, MAR-APR 2001. © 2001 William R. Corliss
---