Science Frontiers
ONLINE

No. 132: NOV-DEC 2000









---

Other pages

---



























Fish Tales From the Mouth of Fishes
Several species of fishes live inside the mouths and gills of larger species of fish. Some are true parasites. Attached by their teeth, they drink the blood of their hosts. Other fishes have fins that have been transformed into adhesive disks that allow them to also live inside the mouths and gill cavities of larger fish. These are true symbionts that feed on food scraps. The sizes and shapes of these invaders are neatly adapted to the mouths and cavities of each host. It is possible, but not easy, to explain how these remarkable physiological and behavioral transformations were initiated and perfected via random mutations and natural selection.
(Gudger, E.W.; "Fishes That Live in the Mouths or Gill Cavities of Other Fishes," Scientific Monthly, 24:556, 1927.)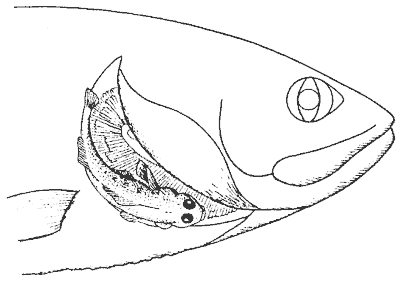 A fish living within a fish. The shapes and sizes of such symbionts and parasites have evolved to fit their unusual niches.
E.W. Gudger (see above) collected all sorts of piscine anomalies. He would have been delighted to learn of a really bizarre type of parasitism involving the spotted rose snapper (and probably other species) and a parasitic isopod (a relative of crabs and lobsters).
The isopod first invades the mouth of the host fish and then consumes its tongue. It then hooks itself into the place where the tongue used to be and, being about the same size and shape of the consumed tongue, becomes in effect its replacement. The isopod afterward helps the host fish to hold its prey as if it were the real tongue. Its reward consists of tidbits from the fish's meal.
(Zimmer, Carl; "Attack and Counter-attack," Natural History, 109:44, September 2000.)
From Science Frontiers #132, NOV-DEC 2000. © 2000 William R. Corliss
---