Science Frontiers
ONLINE

No. 131: SEP-OCT 2000









---

Other pages

---



























Planetary Conjunctions that Changed the World
On May 17, 2000, five solar-system planets (Mercury, Venus, Mars, Jupiter, Saturn) plus the moon slowly wheeled into a tight 19½° arc. It was a notable heavenly conjunction. All manner of natural catastrophes were predicted but failed to materialize. It has been this way down recorded history. Universal deluges were anticipated during similar conjunctions on September 14, 1186, and February 19, 1524, but the weather refused to cooperate with the planets. Humanity survived nicely.
This does not mean that historical upheavals are never correlated with planetary conjunctions. If a society believes strongly enough in the power of the stars and planets to shape human destiny, events may be correlated with the heavens. Such was the case in ancient China.
In China, the "Mandate of Heaven" concept has been used since ancient times as both a framework for history and a guide to future actions. The basic idea is that Heaven awards ruling power to a sage-king because of his virtue. His descendants remain as Earthly deputies until they become corrupted, whereupon outraged Heaven gives signs in the sky that the Mandate has passed on to a different sage-king to continue the cycle.
Three transfers of the Heavenly Man-date marked the beginnings of the Hsu, Shang, and Chou Dynasties. In fact, the tightest grouping of the five visible planets in the period from 3,000 B.C. to 5,000 A.D. (8,020 years!), occurred, on February 26, 1953 B.C., when they were aligned in a 4.33° arc. This was seen by the Chinese power brokers as a celestial command to begin a new social order. Thus was born the Hsu Dynasty. Similar, but looser, conjunctions ushered n the Shang Dynasty (December 20, L576 B.C.) and Chou Dynasty (May 28. L059 B.C.).
So, astrology can influence human destiny, if humans believe in it strongly enough.
Astrology almost changed the course of history in modern times. Rudolph Hess, fervent believer in astrology, took the conjunction of May 10, 1941, as a signal that he should steal a plane, fly to England, and try to engineer a peace between Britain and Nazi Germany. He failed. Surely, his astrologers could have told him that he would!
(Schaefer, Bradley E.; "Conjunctions that Changed the World," Sky & Telescope, 99:28, May 2000.)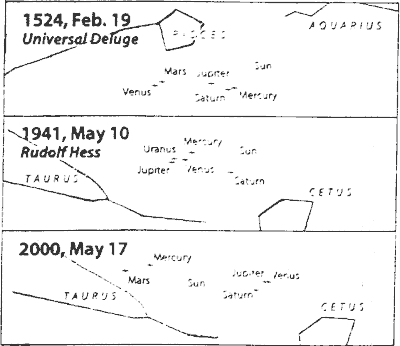 The recent conjunction (that wasn't so catastrophic after all) plus two earlier ones, as they appeared against the backdrop of the constellations.
From Science Frontiers #131, SEP-OCT 2000. © 2000 William R. Corliss
---