Science Frontiers
ONLINE

No. 128: MAR-APR 2000









---

Other pages

---



























Frozen in Time
A map of Antarctica produced in 1997 using data from the Canadian satellite Radarsat has revealed some unexpected geological features at the bottom of the planet. Among these are vast areas of previously unrecognized snow dunes -- all lined up in parallel like the ripples on a stream bed. However, these snow dunes are no ripples. They measure up to 100 kilometers in length with separations of 1-2 kilometers. They are, in fact, called "megadunes." At ground level, though, the snow dunes are not obvious because they are only a few meters high.
Since Antarctica is often buffeted by fierce winds, one would naturally think that these snow dunes have an aeolian origin like desert sand dunes. This does not seem the be the case. Comparisons made using recently declassified images taken in the 1960s by U.S. military satellites reveal that the snow dunes have not moved in over 30 years! Some-thing besides wind-driven snow must be helping to sculpt these immense stationary patterns.
(Tomlin, Sarah; "Vast Snow Dunes Frozen in Time," Nature, 402:860, 1999.)
Comment. The fossil "string dunes" of Australia closely resemble the Antarctic snow megadunes in pattern and size, but of course they are composed of sand. "Megaripples" charted by sonar and shaped by water currents on the ocean floors are also comparable. See ETR3 in Carolina Bays for more.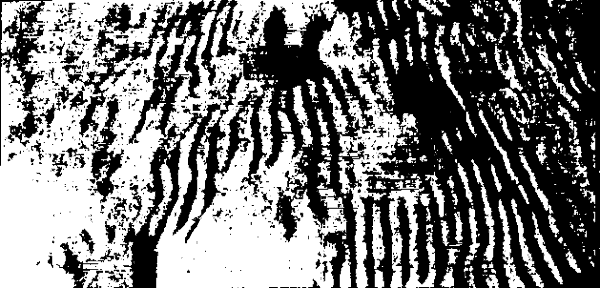 From Science Frontiers #128, MAR-APR 2000. © 1997 William R. Corliss
---