Science Frontiers
ONLINE

No. 128: MAR-APR 2000









---

Other pages

---



























100-Mile-Long Wall in Africa
A 100-mile-long
wall
? Well, sort of! Sungbo's Eredo, as it is called, is really an earthen embankment with an accompanying ditch. Whatever you call it, it does enclose an area 25 miles north-tosouth and 22 miles east-to-west. That's a lot of earth-moving, for at some spots the "wall" measures 70 feet from the bottom of the ditch to the top of the embankment. Today, this impressive structure is mostly concealed by the Nigerian jungle. A thousand years ago it enclosed a flourishing African kingdom.
Sungbo's Eredo is hardly a military structure. Blow could a 100-mile-long embankment be defended with a reason-able number of warriors? Instead, it might have been a boundary marker or perhaps a "spiritual barrier." In fact, shrines are located along the wall where locals still leave offerings to protect themselves from outsiders.
(Onishi, Norimitsu; "A Wall, a Moat, Behold! A Lost Yoruba Kingdom," New York Times International, September 26, 1999. Cr. R. Swanson)
Comment. An interesting parallel to Sungbo''s Eredo is seen in Offa's Dyke, the largest ancient earthwork in Dritain. It is also an embankment-plus-ditch. Offa, the king of Saxon Mercia, had it constructed between 757 and 796 to keep out the troublesome Welsh. Offa's Dyke is 150 miles long; its embankment is 25 feet high; the ditch 6 feet deep. It, too, is indefensible. Today, it marks the boundary between England and Wales. Details in MSW1 in Ancient Infrastructure.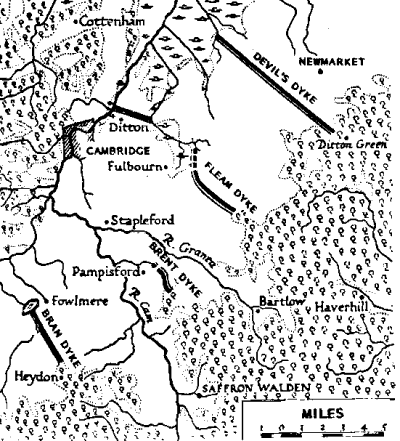 Many other long dykes are draped across the British countryside.
(From: Ancient Infrastructure)
From Science Frontiers #128, MAR-APR 2000. © 1997 William R. Corliss
---