Science Frontiers
ONLINE

No. 70: Jul-Aug 1990









---

Other pages

---



























Lightning "attacks" vehicles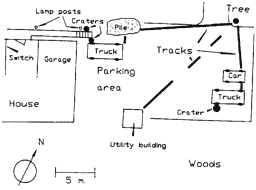 Sketch of the lightning ground tracks and craters in Shelhamer's parking area.
"On Sunday, 17 July, 1988, the usual calm and quiet on the Shelhamer property in rural Hannacroix, New York, was suddenly disrupted by a bright flash and a powerful concussion. The house shook. A picture came off the wall and crashed onto the floor. A contact lens popped out of Mrs Shelhamer's eye. The electric power went out. The kitchen clock froze at 3.30 PM. Mr Shelhamer saw three wisps of smoke rise from his parking area. He noticed a strange smell in the air. A pickup truck, parked near the house, was covered with dirt. Two of its tyres were flat, and the hubcaps were lying on the ground. Strange trenches and tracks had appeared in the surface of the parking area. These trenches led Mr Shelhamer to a hickory tree, about 20m from the house. On it a 10cm scar had appeared, spiralling up the trunk toward the sky. A few minutes earlier it had begun to rain, and all this was the result of the lightning strike.
"Perhaps the most extraordinary aspect of this lightning strike was the way the currents flowing from the hickory tree along the surface of the ground apparently leapt out of the ground in places to pass through the automobiles parked in the parking area. Two of the trenches that radiated from the tree ended at an automobile, but reappeared at the opposite side or end of that automobile, where they either terminated in a crater, or continued tracking on. One of these trenches tracked through two automobiles that were parked side by side."
(Jonasson, H.H., et al; "Unusual Effects of a Lightning Ground Strike," Weather, 44:366, 1989.)
Comment. Electrical currents are supposed to follow the path of least resistance. How did all three vehicles in the parking area end up on paths of least resistance? Some of the phenomena observed can be accounted for by vapori zation of moisture in the ground, but what popped those hubcaps off?
Reference. A wide variety of lightning "idiosyncracies" are cataloged in GLL in our catalog: Lightning, Auroras. Details here.
From Science Frontiers #70, JUL-AUG 1990. © 1990-2000 William R. Corliss
---