White Area In Bottom Of Martian Crater
Near the Martian equator, in the bowl of a 58-mile-diameter crater, Viking Orbiter snapped a peculiar white region. Called the "White Rock," the formation is 8.5 x 11 miles in size and possesses an unusual grooved surface. White Rock is too close to the equator to be ice or snow. It is a unique and unexplained feature.
(Anonymous; "A Martian Mystery," Astronomy, 7:64, January 1979.)
Comment. White Rock looks a bit like an eroded salt plug! If so, the history of Mars will have to be rewritten.
White Rock from 707 miles above Mars (NASA photo)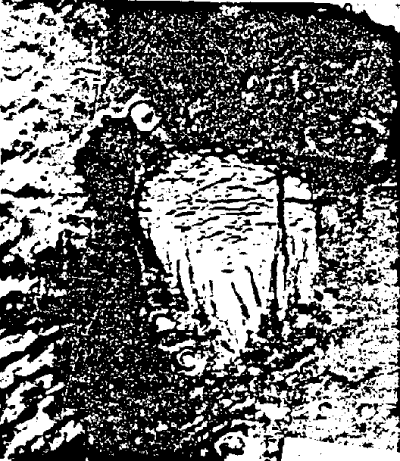 From Science Frontiers #7, June 1979. © 1979-2000 William R. Corliss
---