Inscribed Stone From Tennessee Necropolis
The pictured stone was found during the early 1890s in an extensive cemetery near Nashville. The stone's back was hollowed out like a cupstone, while its front was inscribed with symbols. Barry Fell considers the symbols Libyan, pre100 A.D. style. He translates them thus:
"The colonists pledge to redeem."
(Whittall, James P., II; "An Inscribed Libyan Token from a Necropolis in Tennessee," Early Sites Research Society, Bulletin, 6:37, 1978.)
Reference. Several controversial New World inscriptions may be found in Ancient Man. This Handbook is described here.
Inscribed stone found near Nashville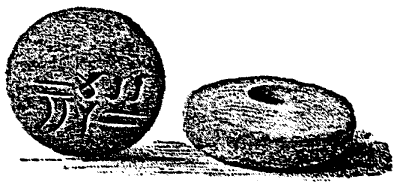 From Science Frontiers #6, February 1979. � 1979-2000 William R. Corliss
---