Science Frontiers
ONLINE

No. 129: MAY-JUN 2000









---

Other pages

---



























Leif was Late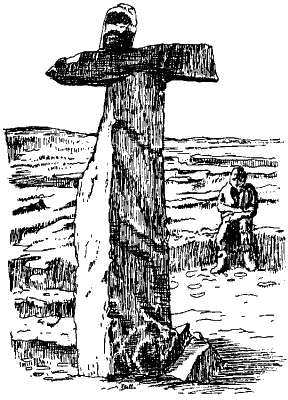 This 10-foot-high standing stone is located near Ungava Bay, Quebec. It is said to resemble the Hammer-of-Thor motif. (From: Ancient Infrastructures)
It took decades for a scientific consensus to emerge that the Norse did indeed establish a settlement at L'Anse aux Meadows, Newfoundland, circa 1,000 AD. This Viking outpost may have been only a short chapter in a long book on the Norse pre-Columbian presence in North America. Mainstream archeologists contemptuously dismiss the Kensington Stone Rhode Island's Newport tower, and those runestones from Oklahoma; but hard-to-explain artifacts continue to crop up in the Canadian Arctic. Recently, there have been purported rivets from a Viking longboat and strand of Norse yarn from the Arctic tundra -- the latter carbon-dated as 800 years old.
The Canadian Arctic is also the location of strange stone towers, stone foundations, and standing stones like that illustrated. Canadian author, F. Mowat, asserts that these structures in the far north are neither Eskimo nor Viking in origin. In his new book, The Farfarers, he claims that some 200 years before the Vikings built L'Anse aux Meadows, voyagers from northern Scot-land crossed the Atlantic in walrus-hide boats and established a colony in Newfoundland. Mowat bases his conjectures upon the strong similarities between the stone structures in the Arctic and those on the Orkneys and other islands in the north of Scotland.
Quite understandably, the Icelanders, to whom Leif Ericsson is a national hero, greatly resent Mowat's theory. (Nickerson, Colin; "New Clues Emerge on Viking Voyages," Boston Globe, February 14, 2000. Cr. M. Colpitts.)
Comment. The same argument -- similarity of rude stone structures -- is presented to "prove" that the hundreds of stone chambers found in New England and New York were built by Precolumbian visitors from Scotland and Ireland.
From Science Frontiers #129, MAY-JUNE 2000. © 2000 William R. Corliss
---